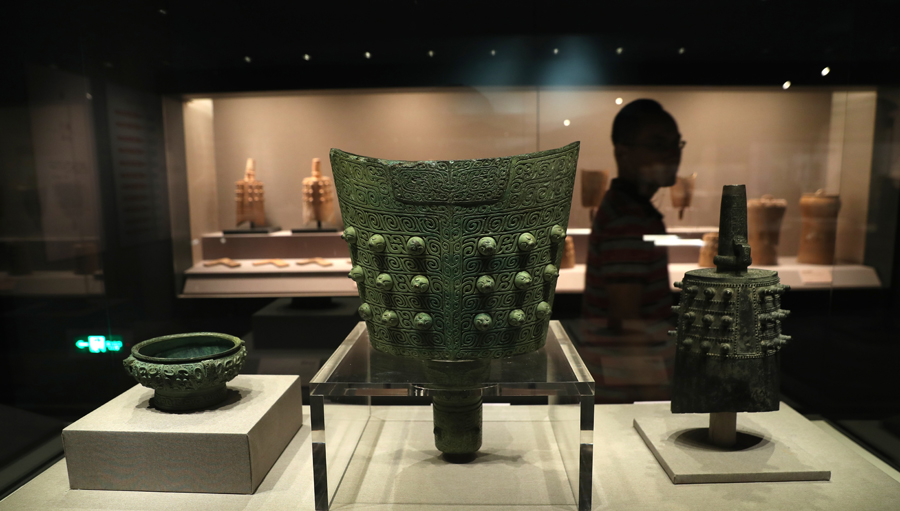 A new exhibition at the Capital Museum offers a kaleidoscopic vision of the key moments in Zhejiang's history, Wang Kaihao reports.
Covering an area of around 100,000 square kilometers, the eastern coastal province of Zhejiang is not particularly large by Chinese standards, yet its rich history offers a panoramic insight into how Chinese culture formed, developed-and ultimately revived.
Thanks to the exhibition, The History and Culture of Zhejiang Province, running at the Capital Museum in Beijing, visitors can "travel" through seven millennia and delve into the ancient history of this eastern province in detail.
According to curator Yu Jiaxin, more than 400 exhibits are on loan from 20 museums from Zhejiang for the exhibition. A quarter of the artifacts are registered as national-level cultural relics.
"If you visit museums in Zhejiang now, you'll probably feel a little bit disappointed because many of their most treasured artifacts have been sent here," she says, smiling. "While many of the highlighted artifacts enjoy the privilege of having their own exhibition cases back home, due to the limited space in our exhibition hall, many of them have to share the same room."
With such a densely populated showcase, the exhibition offers a kaleidoscopic vision of the key moments in Zhejiang's history.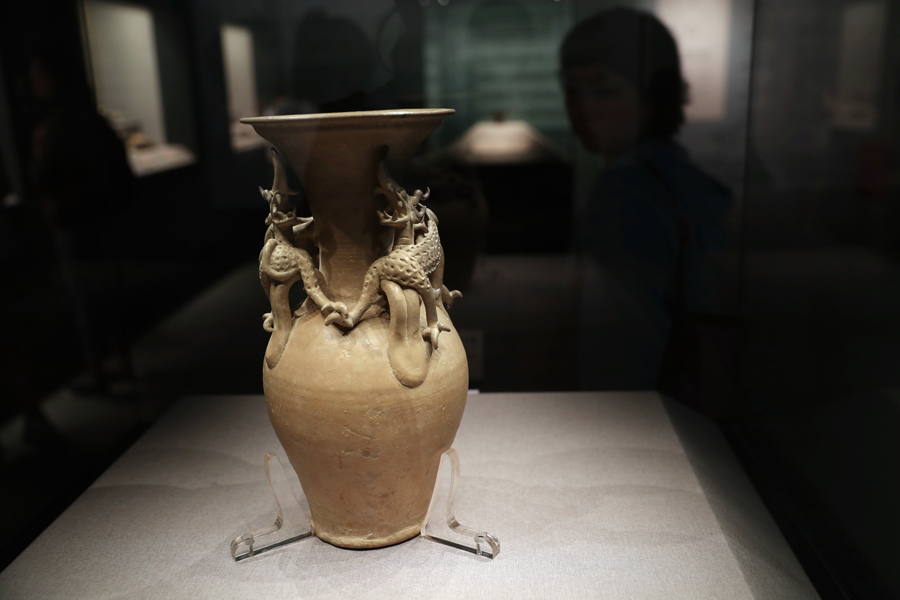 The Hemudu Neolithic culture, which existed 7,000 years ago in today's Yuyao, is the first stop for the time traveler. A black pottery container with a cartoonlike image of a pig reflects Zhejiang's agriculture in its infancy.
Starting from the Hemudu era, the exhibits document the wax and wane of numerous prehistoric cultures and dynasties. They reveal the spread of Buddhism, the growth of the prosperous Maritime Silk Road centered around the trade of porcelain and other milestones in Zhejiang's history.
Liangzhu culture, for example, is another highlight of the exhibition. The Archaeological Ruins of Liangzhu City in Zhejiang's provincial capital, Hangzhou, was inscribed on the UNESCO World Heritage list in July. It marked a civilization that ran from 5,300 to 4,300 years ago and was primarily known for its complex system of ritualistic jade articles. The motif of a human-like deity riding on an animal became a symbol of the times.
"You can just see how thin the decorative lines are on the artifacts," Yu says. "Imagine this, in a time before metal when everything had to be handmade using stone implements-how long did it take to make such a brilliant work of art?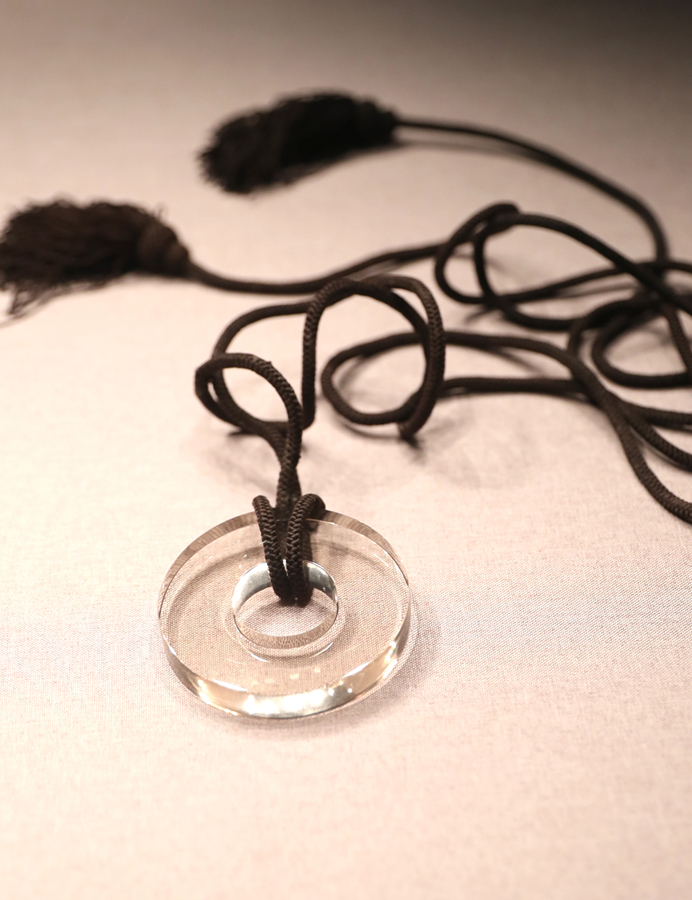 "In an age where people only lived for 30 to 40 years, an artisan could spend almost an entire lifetime finishing just a few items," she adds.
"To our eyes today, an object may simply appear to be an attractive ornament, but they actually represent the life of an artisan."
For a long time in early Chinese history, the Central China Plain appeared in official documents as the political and cultural hub of the country, while Zhejiang was often regarded as a marginalized and uncivilized land.
"Archaeological discoveries have shown us that is not the case," Yu explains. "But the objects from Zhejiang do feature very different characteristics from those in the north."
For instance, while ritualistic artifacts made of bronze prevailed in northern China from the Shang Dynasty (c.16th century-11th century BC) through the Warring States Period (475-221 BC), at the same time similarly shaped jade and porcelain artifacts were being made in Zhejiang-that is, everything from musical instruments to food containers.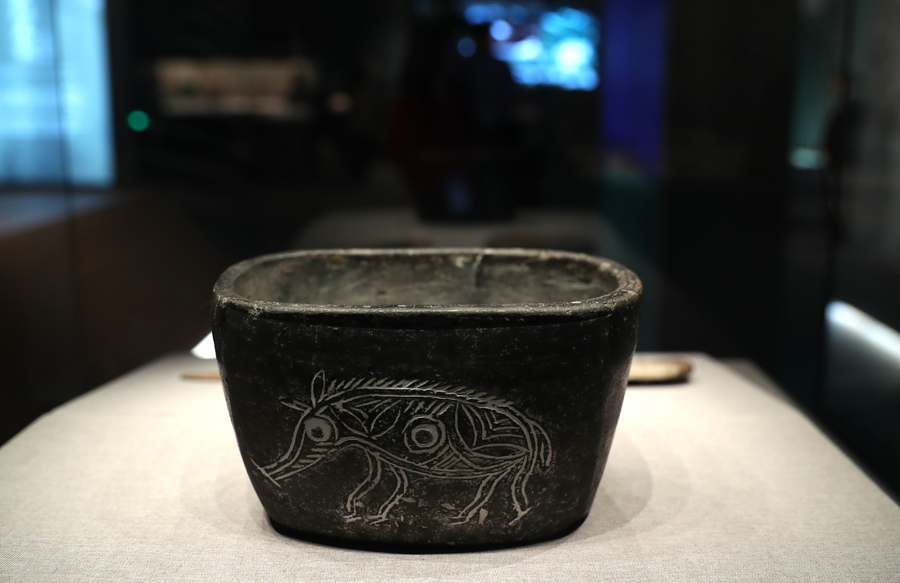 "Some of the delicate designs on jade artifacts from the Spring and Autumn Period (770-476 BC) remind us of Lego blocks today," Yu says. "We have to admire people's wisdom then."
Prototypes of porcelain works appeared in Zhejiang as early as the Shang Dynasty, and a bottle from this era has been put on display as an example of that. Since the piece was previously only exhibited at a county-level museum in Zhejiang, it is not widely known to the public.
"Thanks to this exhibition, we can gather these key items that were scattered around many smaller institutions to give people a clearer idea of history," the curator says.
The development of porcelain in Zhejiang took off during the Tang Dynasty (618-907). Celadon pieces produced at the Yue and Longquan kilns not only became popular products nationwide but also played a key role in global trade in the following centuries.
The Southern Song Dynasty (1127-1279) marked another pinnacle in the ancient history of Zhejiang when Hangzhou became the dynastic capital. The dynasty was famed for its economic boom driven by fine arts despite its relatively undeveloped military and political systems.
The artifacts on display demonstrate a rich variety-from gold ornaments to works of celadon and even teapots-yet they may only reveal a corner of Zhejiang's cultural prosperity.
For example, an 800-year-old disc-shaped decoration made of crystal hung by silk string is another highlight.
"It's not out-of-date, even for modern fashion," the curator says. "What was achieved by these ancient people has gone beyond our wildest imagination."
A bronze-ware item from the Spring and Autumn Period. [Photo by ZOU HONG/CHINA DAILY]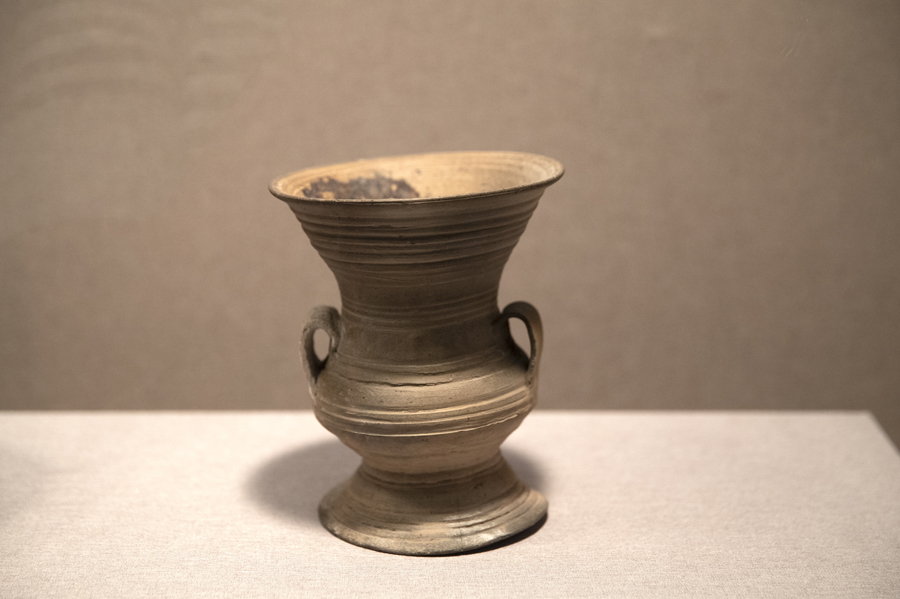 A prototype of porcelain from the Shang Dynasty. [Photo by ZOU HONG/CHINA DAILY]