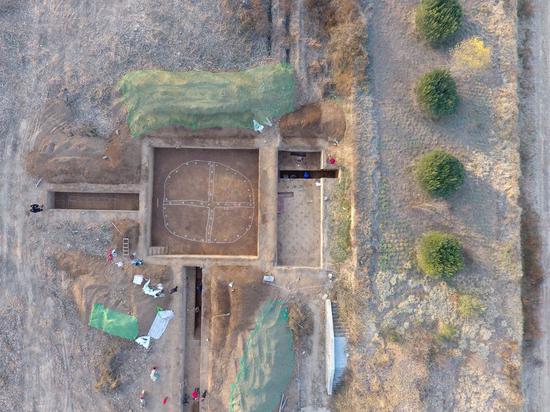 The site of a group of circular building foundations, which are believed to be the state barns of the Shang Dynasty (1600-1046 BC), has been discovered in Central China's Henan province.
The site of the barns is located in the Yanshi ruins -- ruins of an ancient city which was built in the early Shang Dynasty and discovered by archaeologists in 1983.
A total of 23 barns, with a diameter of about 10 meters each, were found in the northwestern part of the ruins and are distributed in eight lines, according to archaeologists.
Archaeologists recently unearthed two of the barns. "The inside space of the barn was separated into four parts by cross-shaped walls in the center," said Cao Huiqi, leader of the archaeological team at the Yanshi ruins under the Institute of Archaeology of the Chinese Academy of Social Sciences.
"The holes around the central columns of these sites might be used to hold the pillars supporting the barns," Cao said, adding that they believe the circular structures were former barns of the ancient city.
"There are two main grounds for judging them as barns. One is the shape. Circular houses have always been used for food storage. This is also the first time that circular buildings have been discovered in the Yanshi ruins," said Cao.
Cao said rows of circular building bases have also been excavated at the Dongxiafeng ruins in Xiaxian county in the neighboring Shanxi province, which belongs to the culture of the same period. The shape and scale of the site are basically the same as those in the Yanshi ruins. And the archaeological community in China commonly regard them as barns.
It is estimated that each barn could store nearly 750 tonnes of millet. Therefore, the 23 barns in the Yanshi ruins could store a total of 17,000 tonnes, which could be enough to sustain 70,000 people for a year.
Archaeologists failed to find any grain at the site during the excavation.
The discovery of the sites of the barns has further improved the understanding of the functional layout of the ancient city. The northwestern part of the ruins, previously unknown, now can be classified as a storage area, Cao said.
The existence of such large-scale barns also indicates that agricultural production in and around the Luoyang Basin was relatively developed, the population was relatively dense, and there might have been a relatively complete and strict grain purchasing and storage system.
Cao said more work needs to be done to solve mysteries such as the age of the barns, the identity of the residents in the city, and how they collect the grain.