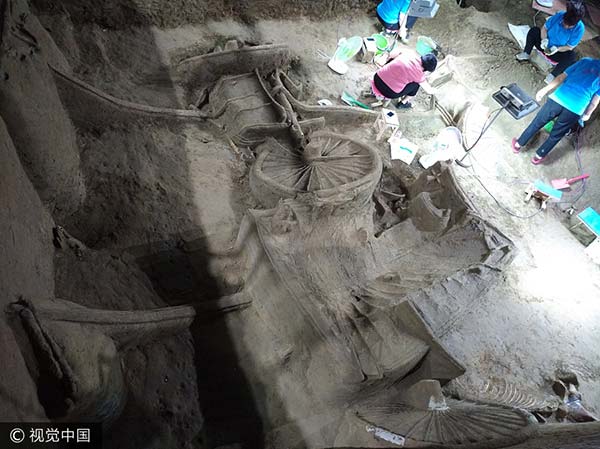 Archaeologists excavate the Zheng State No 3 pit in Xinzheng city, Central China's Henan province, on July 12. [Photo/VCG]
Three vehicles have been earthed from the Zheng State No 3 pit in Xinzheng city, Central China's Henan province, after five months' excavation. One of the vehicles included a large carriage for ancient high officials or nobles.
The structure of the vehicles unearthed has been clearly outlined after being cleaned by archaeologists, even though each discovery has been buried for more than 2,400 years. The shaft, coach and wheels of the vehicles are easy to recognize, and a horse skull was located nearby. Bronze components in the shape of chopsticks have also been found at the site, which archaeologists believe may have been used to fix the rooves of the vehicles.
A 2.5-meter-long, 1.6-meter-wide vehicle unearthed from the pit was uncovered sporting brown colored chips and mat debris at the vehicle's canvas top, and replicates the largest, most luxurious royal vehicles earthed so far at the ancient Zheng and Han kingdoms site.
The mat debris found on the vehicle has a clear ornamentation, and sports various colors of red, black and brown. According to the archaeologists at the site, the previous discoveries only had oilcloth or a simple mat covered on the top of each vehicle, while the most recent carriage uncovered, with colored mat, was able to update the archaeological record.
In addition, the excavation was open to the public, and featured a large four-side screen display and a 360 degree video recorder installed above the pit.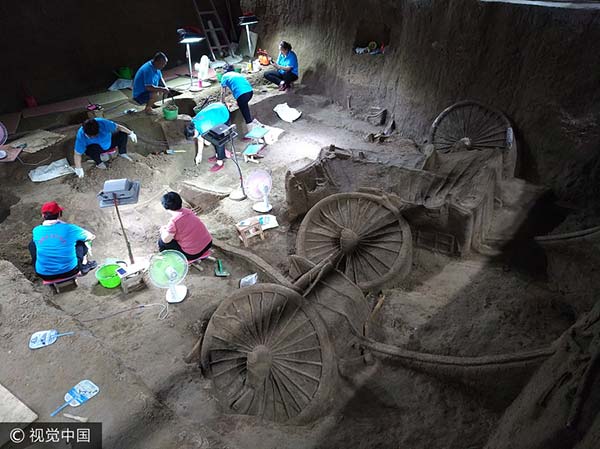 Archaeologists excavate the Zheng State No 3 pit in Xinzheng city, Central China's Henan province, on July 12. [Photo/VCG]