Gulangyu Island, known in the local dialect as Kulangsu, joined UNESCO's world cultural heritage list on July 8, 2017. [Photo/Xinhua]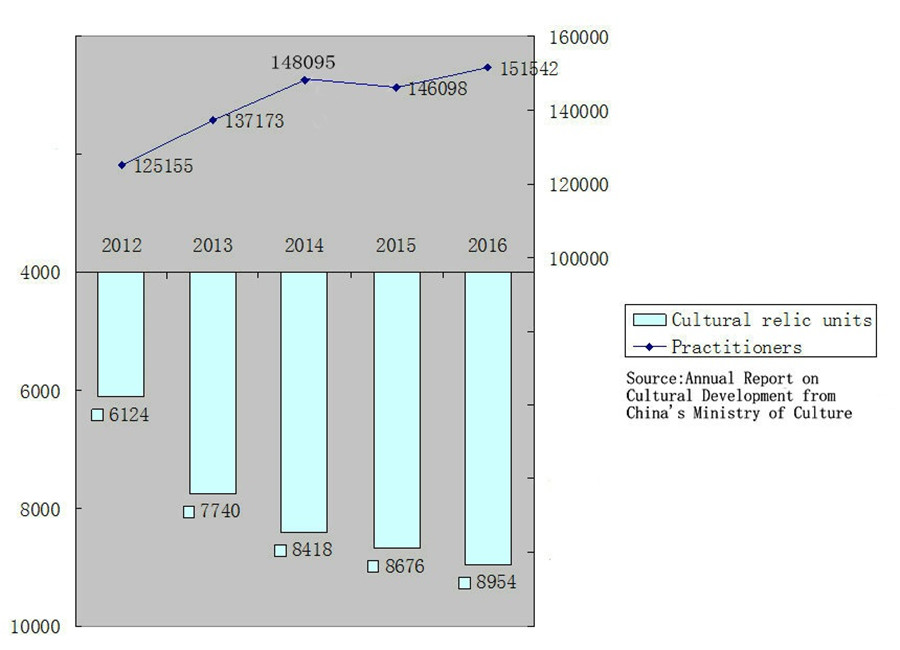 [Photo/Chinaculture.org]
3. Cultural relic protection achievement
The last five years have witnessed a large increase in the number of cultural relic units and their practitioners all over China. The number of cultural relic units has increased from 6,124 in 2012 to 8,954 in 2016, while the number of practitioners rose from 125,155 to 151,542. For more details, please see the above chart.
According to the Annual Report on Cultural Development released by China's Ministry of Culture, by the end of 2016, there were 3,318 cultural relic protection and management institutions, as well as 4,109 museums in China. This indicates that, over the years, the government has invested more manpower and financial resources into the protection of cultural relics.
[Photo/Chinaculture.org]
4. Protection of intangible cultural heritage
As a cradle of the world's intangible cultural heritage, China is striving to protect its traditional cultural and folk artistic forms from extinction in its modernized society.
Since the Law of the People's Republic of China on the Protection of Intangible Cultural Heritage became effective on June 1, 2011, China has entered a new phrase of comprehensive legal protection of intangible cultural heritage.
During the last five years, local governments have accelerated the move towards legislation on intangible cultural heritage. More than 22 provinces, autonomous regions, and municipalities, including Zhejiang, Jiangsu, Xinjiang, Henan, have enacted local protection regulations on the intangible cultural heritage and traditional folk cultures.
By the end of 2016, China's State Council had announced 1,327 national representative intangible cultural heritage items, and the Ministry of Culture has confirmed 1,986 inheritors of these intangible cultural heritage items.
The annual national financial subsidy for inheritors of national intangible cultural heritage item has also increased to 20,000 yuan ($3,038) per inheritor in 2016. Workshops for cultivation of inheritors of national intangible cultural heritage items also have been carried out. In 2016, representatives from 57 colleges and universities participated in more than 180 workshops, and nearly 10,000 participants received training.
At present, about 8,720 intangible cultural heritage training centers and exhibition centers have been established all over the country.
China has established a comprehensive system to protect intangible cultural heritage, with legislation at its core.