Information
Gazing at Sanxingdui exhibition to be held in Hong Kong
Summary: A bronze mask is displayed at the Sanxingdui Museum in Guanghan city, Southwest China's Sichuan province. A new exhibition,Gazing at Sanxingdui: New Archaeological Discoveries in Sichuan, will be held at the Hong Kong Palace Museum from September 27, 2023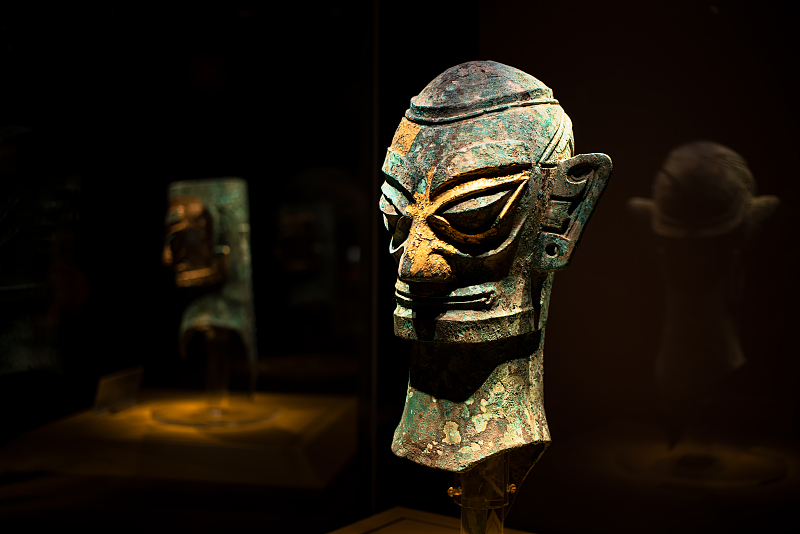 A new exhibition, Gazing at Sanxingdui: New Archaeological Discoveries in Sichuan, will be held at the Hong Kong Palace Museum from September 27, 2023 to January 8, 2024 to offer people an opportunity to appreciate many of the precious relics unearthed at the Sanxingdui Ruins Site.
The exhibition was jointly organized by the Hong Kong Palace Museum, the Sanxingdui Museum in Guanghan, and the Jinsha Site Museum in Chengdu. The exhibition will feature 120 precious cultural relics - including 23 China's grade-one treasures - many of which are being exhibited outside of Sichuan Province for the first time.
This highly-anticipated exhibition will highlight the latest archaeological discoveries from the Sanxingdui Ruins Site and display rare and precious cultural relics such as bronze, jade, gold, and pottery items, as well as other objects, dating back from between 2,600 and 4,500 years ago. Nearly half of the exhibits are important cultural relics that were excavated at the Sanxingdui Ruins Site as recently as between 2020 and 2022, including bronze heads, figures of mythical creatures, dragon-shaped objects, and a hybrid tiger-dragon statue, showcasing the extraordinary achievements of the ancient Shu civilization.
This exhibition will feature four sections: "Timeless Gazes," "Urban Life at Sanxingdui," "Gods and Shamans at Sanxingdui," and "The Origin and Inheritance of Sanxingdui," to demonstrate the Sanxingdui Ruins Site's origins and legacies, Sanxingdui culture, and other archaeological discoveries in other areas of Sichuan Province.
Dr Louis Ng, Director of the Hong Kong Palace Museum, hopes the exhibition will attract more global visitors to learn more about the formation and development of Chinese civilization - its richness and diversity, continuity, inclusiveness, unity and innovation - and the contribution it has made to global civilization as a whole.