Information
Flurry of new archaeological discoveries exhibited in Guangzhou
Summary: An exhibition featuring the latest archaeological discoveries in South China's Guangzhou opens at the city's Nanhan Erling Museum, April 25, 2023. An exhibition featuring the latest archaeological discoveries in Guangzhou, in south China's Guangdong, has
An exhibition featuring the latest archaeological discoveries in Guangzhou, in south China's Guangdong, has opened at the Nanhan Erling Museum, showcasing the findings from 18 archaeological excavations in 2022. This is the first time that all of the unearthed cultural relics are being made publicly available.
In 2022, archaeologists in Guangzhou completed 404 projects. This saw them explore 2.41 million square meters, excavate 12,964 square meters, clear 2,255 relics, discover 201 tombs from various periods, and unearth 1,625 pieces (sets) of cultural relics. Among them, about 260 pieces (sets) of relics, including pottery, bronze, iron, silver, crystal, and shells, have been selected for display at the exhibition.
The exhibition is divided into three themes: "Residence," "Labor," and "Burial." These sections showcase pre-Qin relics in caves, remains from large-scale production and living sites during the Shang Dynasty (1600-1100 B.C.), and pottery fragments from the Xia (2100-1600 B.C.) and Shang periods found in the stratigraphic deposits.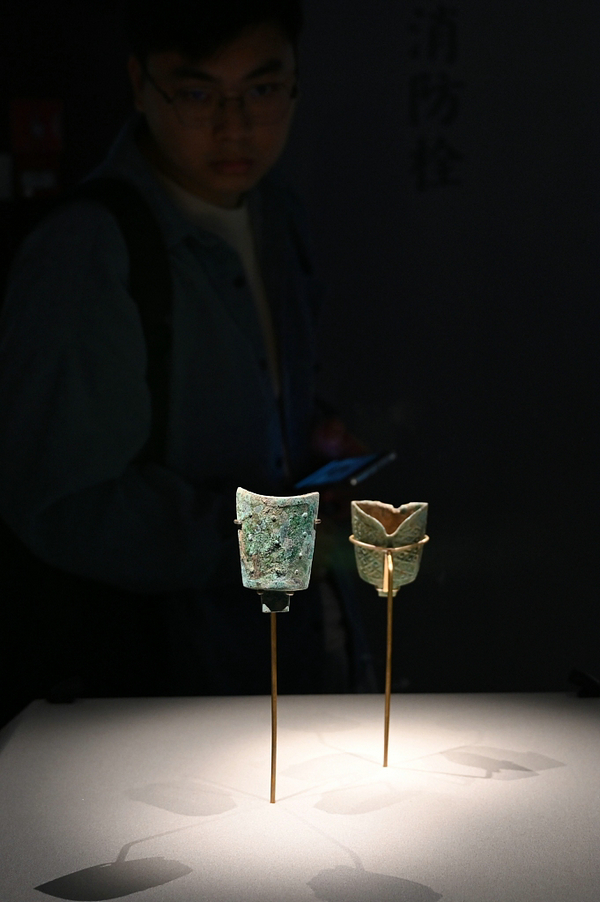 Due to a lack of reliable records, archaeology is the primary means of uncovering Guangzhou's history from the late Neolithic period to the Qin Dynasty (221-206 B.C.).
The earliest pre-Qin cultural relics discovered in the city were stone axes, stone arrowheads, and other artifacts collected by teachers and students from Sun Yat-sen University in 1954 and 1955, dating back about 4-5,000 years to the Neolithic Age.
Over the past decade, a series of important archaeological sites were dug up in districts such as Zengcheng, Huangpu, and Conghua. These have given experts a new understanding of the historical context and spatial pattern of early Guangzhou.
The cultural relics exhibited this time are said to be of great significance for exploring the development trajectory of Guangzhou.
Wang Siyu, the host of the project, said the exhibition focuses on the connection between archaeological discoveries and modern life.
Visitors can appreciate the daily lives and important events of people who lived in Guangzhou in ancient times and engage in a cross-temporal dialogue with those who once lived in the same region, relating these ancient relics and artifacts to their own life experiences.
The exhibition runs from April 25 to Dec. 17, providing new insights for visitors so they can gain a deeper understanding of the city.