Information
Region unites on cultural heritage work
Summary: A view of the Bell Tower in Xi'an city, Northwest China's Shaanxi province. Heritage: Key support to continueChina will further deepen ties with other Asian countries on cultural heritage protection and promote international cooperation in the field, Pres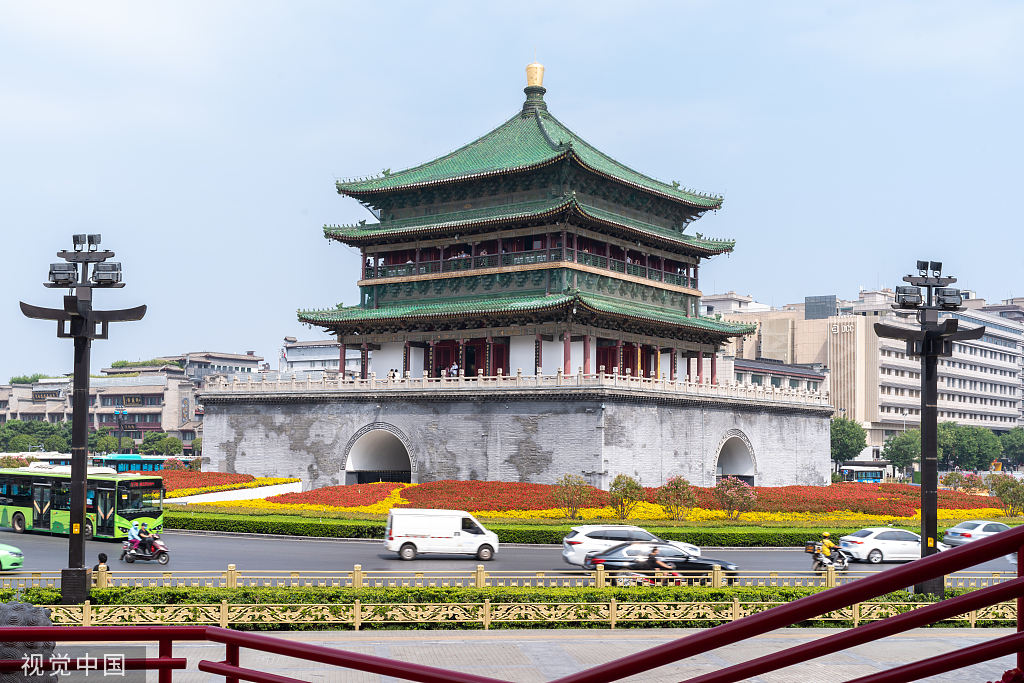 Heritage: Key support to continue
China will further deepen ties with other Asian countries on cultural heritage protection and promote international cooperation in the field, President Xi Jinping said in a congratulatory letter to the inaugural general assembly of the Alliance for Cultural Heritage in Asia.
China is willing to join other Asian nations to establish a network for dialogue and collaboration among the world's civilizations, and promote mutual understanding among people and global development, he said.
Xi said Asia is a key cradle of human civilization and has preserved its rich cultural heritages. Cooperation in recent years on ancient civilization studies, archaeology, conservation of historical monuments, and museum exchanges has helped protect the essence of human civilization.
The congratulatory letter was delivered to the ACHA meeting in Xi'an, Shaanxi province, on Tuesday and read by State Councilor Shen Yiqin at the alliance's first general assembly.
Delegates from 22 Asian countries and other international organizations, including 15 ministerial officials from overseas responsible for cultural and heritage affairs, attended the meeting in Xi'an, known as Chang'an in ancient China and a key juncture of cultural communication. It is the first large-scale, high-level international conference organized offline by the alliance since its creation.
In a keynote speech at the Conference on Dialogue of Asian Civilizations in Beijing in May 2019, Xi expressed China's willingness to work with other countries to protect Asian cultural heritage.
In 2021, an online meeting of the Asian Dialogue for Cultural Heritage Conservation was held, during which 10 countries, including China, Cambodia and Kyrgyzstan, initiated the ACHA mechanism, which echoed Xi's proposal.
Three more countries were approved as ACHA member states at Monday's council meeting of the alliance, with five other countries becoming observers.
"We expect member states to uphold the principles of equality, mutual respect, and mutual benefits to jointly advance construction of the alliance," Li Qun, vice-minister of culture and tourism and director of the National Cultural Heritage Administration, told the assembly.
Li also called on Asian countries to learn how to use their cultural heritage "to bolster cultural confidence, get rid of poverty and hunger, and promote prosperity".
China has been involved in 33 joint archaeological projects in 19 Asian countries and participated in conservation projects at 11 historical monuments in six Asian countries, Li said, adding more participatory projects are on the way, thanks to the alliance.
Li revealed that China will support restoration work and surveys of damage to cultural heritage sites in Syria in the aftermath of two strong earthquakes in February. The work will be conducted within the framework of ACHA.
China will provide training sessions for at least 50 cultural heritage workers from other Asian countries over the next three years. It will also share satellite remote-sensing technology with other alliance member states to facilitate management of heritage sites, disaster prevention and mitigation work at cultural heritage sites and archaeology.
The Xi'an Declaration of the Alliance for Cultural Heritage in Asia was also published at the general assembly.
The declaration called for respecting cultural diversity, upholding the shared values of mankind, collaboration in areas including urban and rural heritage conservation, joint archaeology excavation, museum exhibitions, and training young professionals.
The declaration said the future and destinies of countries are closely linked nowadays and "the modernization drive of humanity" and the "garden of world civilization" would be impossible "without inclusion, coexistence, interchanges and mutual learning of civilizations".
The Silk Road Collaborative Research Center for Archaeology was also inaugurated at the assembly. The Xi'an-based center will facilitate cooperation of joint archaeological excavation work and provide exchanges and training among countries to improve expertise.
Since the center was proposed in 2021, Xi'an-based Northwest University has signed cooperation agreements with 13 universities and institutions in eight countries.
The Asian Fund for Cultural Heritage Conservation was also launched on Tuesday and is open to applications from organizations and individuals across Asia.
About 88 million yuan ($12.76 million) has been raised from enterprises and foundations in China since 2021, and other member states will also join the fundraising, said Liu Yuzhu, director of the fund's governing board and chairman of the China Foundation for Cultural Heritage Conservation.
Liu said the fund will support projects including academic studies, restoration work, exhibitions, youth education and media communication.
Kong Vireak, secretary-general of the alliance and Cambodia's undersecretary of state for culture and fine arts, said ethics and maintaining heritage unite people around the globe.
Valery Freland, executive director of the Geneva-based International Alliance for the Protection of Heritage in Conflict Areas, who attended the general assembly in Xi'an, is eager for his organization to collaborate with ACHA.
He suggested regular joint meetings, cofinancing of projects, and experts and operators from both sides establish a dialogue to create synergies and networks.
The second general assembly of ACHA will also be hosted by China, with Kyrgyzstan named the guest of honor. After the second event, member states will take turns to host the general assembly.
"Historical heritage is an integral part of any culture, which is passed on from generation to generation as the heritage of every state," Altynbek Maksutov, Kyrgyz minister of culture, information, sports and youth policy, told China Daily.
"We are confident that by working together we will be able to preserve for future generations all the wealth of the world's historical and cultural heritage," he said.